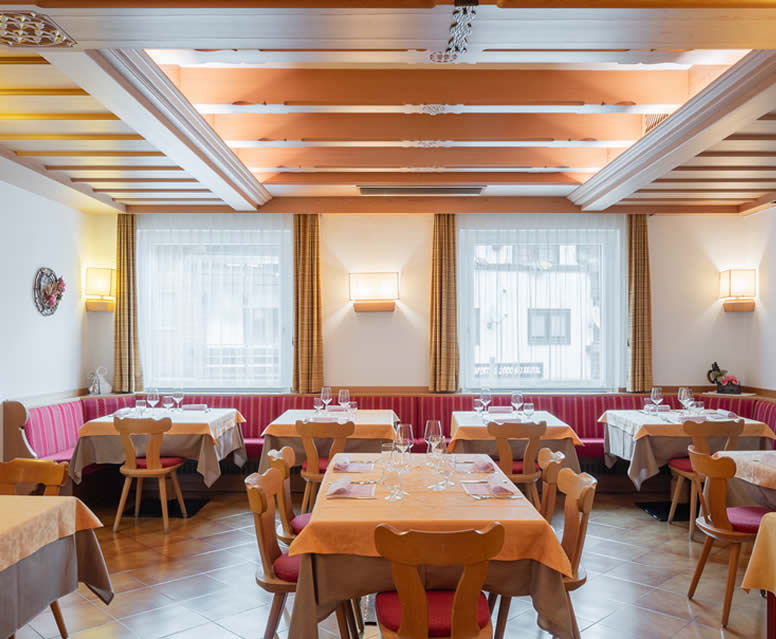 FASSA
VALLEY
FLAVOURS
The La Stua de Macoch restaurant at Hotel Ladina in Campitello di Fassa is also open to people not staying at the hotel. It serves lunches and dinners inspired by local traditions and you can also opt for a typical Fassa menu for a mixture of flavours and aromas which will take you to the heart of the Ladin tradition!
La Stua de Macoch's cuisine is a veritable gastronomic journey which will give you a try of the tastiest delicacies from our tradition: you'll discover an elegant expression of mountain pleasures. You'll be welcomed into a family atmosphere by friendly staff who will offer you a version of local Ladin and Trentino cuisine given a modern twist.
LET
YOURSELF
BE
AMAZED:
TRY
OUT
OUR
LA
STUA
DE
MACOCH
RESTAURANT
AT
HOTEL
LADINA
IN
CAMPITELLO
DI
FASSA!
If you are wondering what the name means we'll let you into the secret right away: De Macoch is the nickname of the Riz family who manages the restaurant!
It is a typical Ladin 'stua' or stube - the room the wood fire was kept in – panelled in wood and a chance to experience the historic traditions of this Ladin mountain village. The 'stua' was, in fact, once the only room of the house which was heated and for this reason the heart of the home and the room where people chatted at length.
As well as the restaurant's indoor room, in summer meals are also served outdoors with views of Campitello di Fassa's charming square and the imposing Sassolungo massif from the tables.
A
TASTE
OF
OUR
MENU
Stua de Maroch showcases the best local products right from its starters: salmon trout, 'carne salada', famous charcuterie and a selection of cheeses, all washed down by excellent local wines.
Let our chefs amaze you with their skill: try some of the tastiest dishes in Trentino cuisine such as strangolapreti or canerderli - large bread dumplings - made with absolutely top quality products such as Trentino speck, venison ragout, walnut sauces and the famous local cheese Campidel de Fascia. Outstanding venison, polenta, fillet of beef with porcini mushrooms or potatoes and many other recipes complement your culinary experience at Stua de Macoch.
Our menu also comprises local stews such as goulash and dishes for vegetarians too.
And lastly, don't forget to try our pastries, one of the jewels in the crown of our restaurant!
Your culinary experience also encompasses our selection of Trentino and other wines. Our staff will also advise you on the ideal wine-food pairings. At La Stua de Macoch you can also try our Trentino grappas as a perfect end to your lunch or dinner.
Holidays have to be a culinary treat for everyone and for this reason we offer our celiac guests a gluten free cuisine in which they do not miss out on traditional Trentino dishes.
Children are welcome at La Stua de Macoch restaurant with our Baby Menu designed especially for our little guests.
Hotel Ladina guests get 10% off at the restaurant!
The Riz family will be happy to welcome you to La Stua de Macoch.
OPENING
HOURS
AND
RESERVATIONS:
OPEN
EVERY
DAY
FOR
LUNCH
FROM
12
TO
2
AND
DINNER
FROM
7
TO
9
RESERVATIONS:
0039
0462
750501