Restore
your
wellness
in
the
Fassa
valley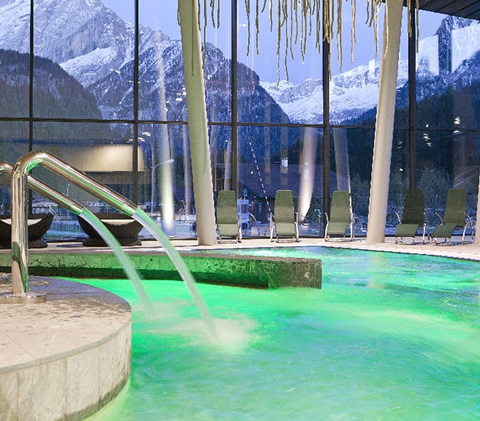 After
a
day
in
the
mountains
there
is
nothing
better
than
a
wellness
treat!
Wellness during your Val di Fassa holiday at Hotel Ladina begins at our Wellness Centre, an oasis of relaxation.
Steamroom with music therapy, an Alpine herb bio-sauna, a Finnish sauna, a 'water paradise' (tropical rain, kneipp shower, cold mist, glacial reawakening), a large jacuzzi bath and an infra-red cabin not to mention our massage centre and exclusive wellness packages.
But if all this is not enough, the Val di Fassa's wellness opportunities are truly limitless!
The Fassa valley offers special treatment for those looking for a pleasant relaxing stay: the area's wellness centres and spa baths are one-of-a-kind, not simply in terms of services offered but also the natural environment they are set in. Far from the traffic and smog of the towns and cities, here you can put stress behind you and let yourself go to a regenerating holiday.
TERME
DOLOMIA:
a
temple
of
relaxation
Set in a unique landscape, at the heart of the Dolomites, Terme Dolomia in Pozza di Fassa is a veritable temple of relaxation. The spa centre, certified with the national health service, offers hydropinic therapies, aerosol therapy, mud therapy, spa cures and many other wellness opportunities including wellness, crystal therapy, balneotherapy and beauty treatments.
Pozza di Fassa's Aloch spring is the only sulphurous water spring in the Trentino region and is rich in mineral salts, calcium and magnesium whose beneficial effects have been recognised since antiquity. Water quality is certified by the Provincial Agency for Environmental Protection.
QC
TERME
DOLOMITI:
4300
square
metres
of
wellness
At Pozza di Fassa you can enjoy the benefits of the Aloch sulphurous water springs at QC Terme Dolomiti, too, an innovative spa baths set in the natural context and fully respecting the environment. It is an innovative wellness where you can try out balneotherapies using the therapeutically active mineral waters of the area with their biological and therapeutic effects and physical properties exerted by its mineralisers. And that's not all. There are 4300 square metres on 3 levels where you can try out Japanese baths, a range of jacuzzi baths, a kneipp route, saunas, bio-saunas and much more.
Hotel Ladina clients get special rates at QC Terme delle Dolomiti in Pozza di Fassa - FIND OUT MORE
Centro
Acquatico
Dòlaondes:
follow
the
waves
As an alternative to spa baths, in Canazei, the Centro Acquatico Dòlaondes - Eghes Wellness Center, whose Ladin origin name means 'follow the waves', awaits you. Here you have a choice of four themed areas including Sport&Fitness, Water&Fun, Eat&Drink and the Eghes Wellness route inspired by the bioclimatology principles of the ancient Roman spa baths. Ideal after an intense day of exercise.
The Fassa valley is a veritable oasis of physical and spiritual wellbeing offering you one-off moments of relaxation... all that's left now is to come and try it out!