VAL
DI
FASSA
NORDIC
SKIING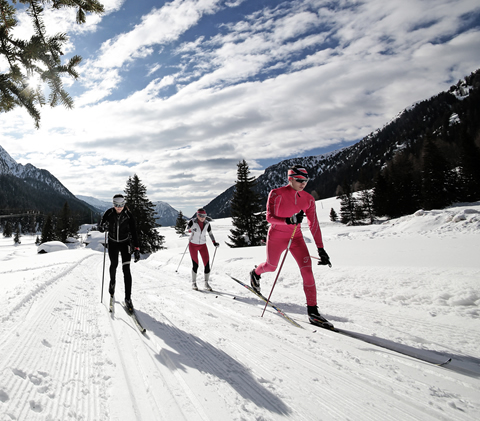 SPECIAL
NORDIC
SKIING
AREAS
IN
VAL
DI
FASSA
With more than 50 km of slopes in a breath-taking Dolomite setting, Nordic ski fans won't be disappointed in the Fassa valley!
Surrounded by the majestic Fassa Dolomites there is a grand total of four Nordic ski areas suitable for all experience levels and ready to welcome Nordic ski lovers to the Fassa valley.
You'll be carried away by the enchanting beauty of the Fassa valley's circuits. The valley's routes are groomed daily with guaranteed snow from December to April. Two of the three special Nordic ski areas can also be used at night with modern lighting systems, definitely an experience to try!
Each Nordic ski area is different and there is something for all experience levels:
Centro sci di fondo Canazei: in the centre of Canazei and less than 3 km from Hotel Ladina. Also ideal for those with no experience thanks to its straightforward routes and you can also take skiing lessons at the centre;
Centro sci di fondo Pozza di Fassa: set in the forest, less than 8 km from Hotel Ladina, it is perfect for both beginners and the more experienced. A range of circuits in a spruce forest in a tranquil environment.
Centro sci di fondo Alochet del Passo San Pellegrino: suitable for the most experienced with challenging, high thrill circuits for a top level Nordic skiing experience.
There are beautiful areas for Nordic skiing just a few minutes away from Campitello di Fassa's Hotel Ladina and this is why Campitello di Fassa is one of the places which the more than 7000 athletes taking part in the prestigious long distance La Marcialonga race passes through.
THE
FIEMME
FASSA
MARCIALONGA
Find out more about the Fassa e Fiemme Marcialonga on the last Sunday in January.
As is traditional, competitors take part in one of the most famous races in the world - a great draw for thousands of athletes.
If the classic 70 km route doesn't suit you, you can go for the Marcialonga Light from Moena to Predazzo measuring 45 km. Other opportunities - for younger Nordic ski fans – are the Minimarcialonga and Marcialonga Young for children and teenagers and there is also the Marcialonga Stars, a charitable event organised in partnership with La lega per la lotta ai Tumori.