VAL
DI
FASSA
FAMILY
HOLIDAYS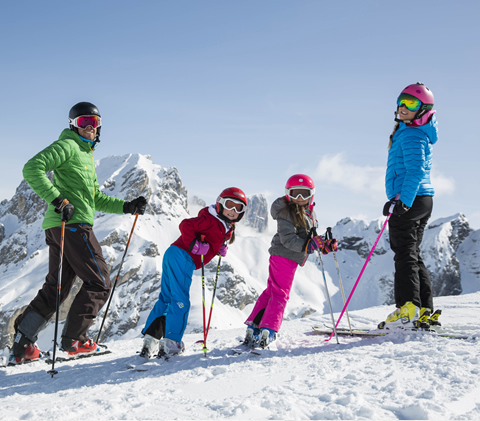 CHILDREN
ARE
MORE
THAN
WELCOME
AT
HOTEL
LADINA
AND
IN
VAL
DI
FASSA
Campitello di Fassa's Hotel Ladina takes special care of families holidaying with children. Starting with food - our chefs have designed a special menu for our little guests. And a mini kitchen is available throughout the day on the second floor of the hotel to be used for heating up or making milk and baby foods.
When you come back tired from a hike or cycle ride you can use the token-operated washing machine and drier to wash your clothes while you get on with other things.
Our rooms have also been designed to comfortably accommodate families with children and if you prefer a fully independent holiday you can also choose our comfortable three bedroom apartment with kitchen.
In Val di Fassa we always take special care of families and children.
There are many activities in both the mountains and the valley which are specially designed for the Fassa valley's little guests: play parks, baby ski slopes and school areas.
There's certainly no risk of your children getting bored in the Fassa valley, to the great joy of mum and dad who will finally be able to enjoy a well-earned snow holiday in the mountains!
Little skiers will be able to have fun on the many ski slopes designed for those learning to ski for the first time and there are also many snowparks where children can play in total safety. There are plenty of ski schools with instructors for those wanting to learn offering group or individual lessons for children. The Fassa valley's play parks have professional staff in whose capable hands you can leave your children in total safety while you take a little time off.
KINDERPARK
AND
PLAY
PARKS
IN
VAL
DI
FASSA
VALLEY
Kinderland and Banzimalia Winter Park – Campitello di Fassa: these are two special children's areas in Campitello di Fassa. Kinderland is near Col Rodella cable car starting point and Bamzimalia Winter Park is near the Strèda Roma school area. Children can take ski lessons or have fun with entertainment activities. Both play parks are a few minutes from the hotel on foot and entrance is free for hotel guests.
Park Bimbo Neve – Pera di Fassa: less than 10 minutes by car from Hotel Ladina, the Pera di Fassa snow play park is a place for children to take ski classes organised by the Pozza di Fassa Scuola Sci Vajolet. Managed by skilled staff, the Bimbo Neve park offers an equipped play area with floats and inflatables, a giant ball swimming pool and swings with sleds and pallets, snow games, music and lots of fun.
Kinderland Nani – Passo Costalunga: near Vigo di Fassa at Malga Frommer, Scuola Sci Carezza offers your children ski courses and entertainment, just 10 km from Hotel Ladina;
Fiabilandia – Moena: at Prato di Sorte there is a fantastic play park with ice igloos, huge inflatables, bob and sled slopes, a miniclub and entertainment.
KINDERPARK
AND
HIGH
ALTITUDE
PLAY
PARKS
IN
VAL
DI
FASSA
Kinderland Indian Village- Alba di Canazei: at the Canazei play park children can take lessons from the Scuola di Sci Marmolada - Canazei ski instructors. Individual and group ski lessons are available together with entertainment. Entrance to the Canazei kinderpark can be independent or with staff assistance. Just 4 minutes from Hotel Ladina.
Kinderpark Ciampedie – Vigo di Fassa: at the Vigo di Fassa Kinderpark children can take part in many activities such as snow inflatable descents, kinderdance and snowcat trips. Approximately 15 minutes from Hotel Ladina.
Lusialand – Moena e Alpe Lusia: the Alpe di Lusia play park, here your children can play on their own or with the assistance of staff or take ski classes with the Scuola Sci Moena instructors.
Kid's Paradise – Passo San Pellegrino: in the midst of the Passo San Pellegrino slopes, this play park offers fun activities and food chosen by children's dieticians.
Val di Fassa offers a great deal to nature loving families with many walks to serene snow covered forests where you might catch a glimpse of a deer or squirrel. FIND OUT MORE ABOUT ITINERARIES TO DO on foot or WITH SNOWSHOES IN VAL DI FASSA with the whole family
If you are organising a family holiday, don't miss out on sledge descents along snow covered slopes and - why not? - a snow ball fight! FIND OUT MORE ABOUT VAL DI FASSA'S SLEDGE SLOPES FOR ALL THE FAMILY
At Canazei ice stadium you can have fun ice skating in both summer and winter. In winter in Val di Fassa there are natural ice rinks too: Pattinaggio Do Vea in Pozza di Fassa and Pattinaggio Fantolin Golf in Moena.
Our hotel staff are at your disposal for further information and to help you organise a Val di Fassa holiday for the whole family!