THE
GIRO
DEI
4
PASSI
ON
SKIS,
ON
FOOT
OR
BY
BICYCLE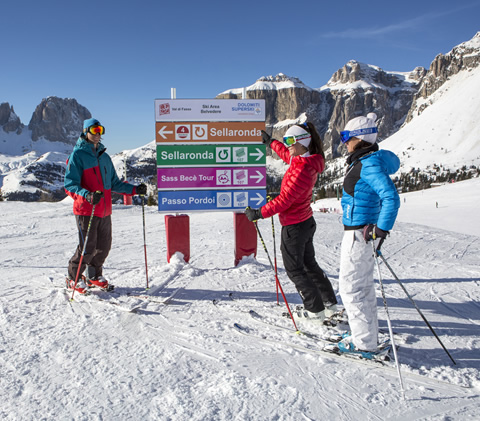 SELLARONDA:
A
CIRCUIT
OF
THE
SELLA
MASSIF
IN
THE
DOLOMITI
SUPERSKI
AREA
The Sellaronda skitour is an around 40 km long panoramic ski circuit around the great Sella massif in the Dolomites located in the Fassa, Badia, Gardena and Livinallongo valleys. The Sellaronda derives its Giro dei 4 passi - 4 pass circuit - name from the 4 passes which make up the Sella massif: Passo Pordoi, Passo Sella, Passo Campolongo and Passo Gardena.
It is very easy to get to the Sellaronda from Hotel Ladina by taking the Campitello di Fassa cable car to Col Rodella which is an access point for this panoramic route and an ideal location for getting to Passo Sella and Passo Pordoi.
A feature of this itinerary – which attracts a huge number of visitors every year - is that in winter you can do it entirely 'skis on feet' without ever repeating the same slope!
26 of its 40 km are ski slopes giving you varied panoramas in just a few hours all accompanied by incomparable beauty which will leave you speechless.
There are different itineraries en route - from orange to green - according to whether you are moving clockwise or anti-clockwise. In total, including ascents and descents, you can complete the circuit in around 6 hours. For this reason you are advised not to set off after 10 am to avoid doing the last pass after 3.30 pm and so not managing to return to your starting point before the ski lifts close. The slopes on this circuit are not especially challenging and suitable for skiers of average experience. For those wanting more of a challenge there are alternative slopes such as Alta Badia's giant slalom piste Gran Risa and the Saslong descent in Val Gardena.
The famous Pista Thoeni, the fantastic red run that descends to Vigo di Fassa, has recently been improved and there is also the Vulcano slope, a 2 km long black run dropping a grand total of 566 metres, in the Buffaure ski area.
If you are ahead of time you can always stop and do any slopes you like a second time. Between slopes we recommend that you stop at one of the wonderful refuges you meet along the Sellaronda for a taste of some traditional dishes and to take a few photos.
SELLARONDA
-
NOT
JUST
ON
SKIS
You can also do the Sellaronda or Giro dei 4 Passi in summer by car, on foot or on a bike or mountain bike and it's a great challenge. In summer a combined ski lift, public bus and footpath offer is available.
The Sellaronda MTB Tour has two mountain bike variants just like the ski tour, one clockwise and the other anti-clockwise. Most of the climbs can also be done with ski lifts. Clockwise it is 58 km long with an altitude gain of 450 metres while anti-clockwise it is 53 km with an altitude gain of 900 metres.
There is also a trekking route which circuits the Sella massif. It is not overly challenging but requires a certain level of fitness, taking from 5 to 8 hrs.
SELLARONDA
APPOINTMENTS:
A
NATURE
CHALLENGE
For those wanting to test themselves, there are two yearly events along this beautiful itinerary: the Sellaronda Skimarathon, considered the Formula 1 of ski mountaineering and to be completed in pairs by night, and the Sellaronda Hero, one of the most challenging mountain bike marathons in the world.