EXPLORING
THE
FASSA
VALLEY'S
MOUNTAIN
DAIRIES
AND
REFUGES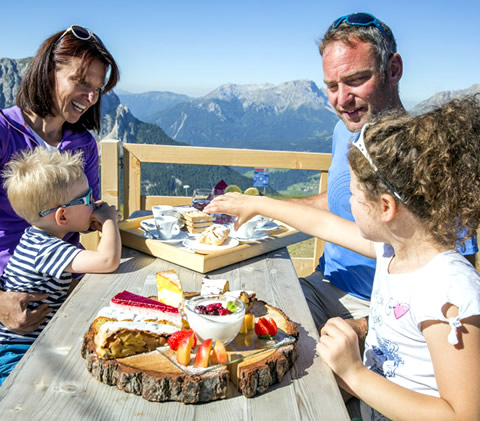 MEET
VAL
DI
FASSA'S
FLAVOURS
AND
AUTHENTIC
TRADITIONS
Visit the many high altitude dairies and refuges in the Fassa valley and get to know the simplicity and authenticity of mountain life.
For refreshment during an excursion or to try out local cuisine in a traditional setting, visit the Fassa valley refuges or take a break at a mountain dairy for a high pasture experience. Mountain dairies are traditional stone buildings in which you can watch the milk being processed, taste and buy top quality local products and enjoy the cooking of yesteryear. A symbol of hospitality ,these mountain huts have always welcomed cattlemen and travellers.
Many refuges are easily accessible from our hotel in Campitello di Fassa. Here are a few: Rifugio Sandro Pertini (2300 m. – 45 mins from Col Rodella cable car), Rifugio Des Alpes (2440 m. – Col Rodella cable car), Rifugio Friedrich August (2389 - 10 mins from Col Rodella cable car), Rifugio Micheluzzi (1850 m. - accessible by shuttle bus) and Rifugio Sasso Piatto (2300 m. – 2 hrs from Col Rodella cable car).
The Val di Fassa Tourist Board also organises 'Andar per malghe' - strolling between dairies - a programme of guided walks with ethnographic itineraries and educational workshops suitable for everyone. An opportunity to discover the valley's specialities and characteristics in company.
For further information and to find out about other Val di Fassa refuges CLICK HERE.