DOLOMITE
WALKING
AND
TREKKING
IN
THE
FASSA
VALLEY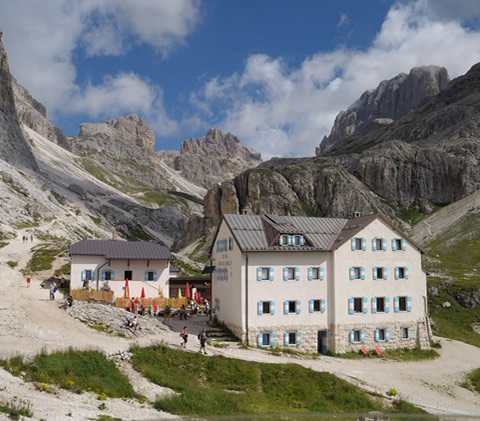 WALKS
AND
TREKS
FOR
EVERYONE
IN
THE
FASSA
DOLOMITES
AND
TRENTINO
In summer Val di Fassa fills up with colours and fragrances with the unique panoramas and enchanted scenarios which only the Fassa valley can offer. The best way to enjoy the beauties of the area is to get out there on a mountain excursion!
Val di Fassa is a paradise for walking and trekking lovers with its many paths and itineraries accessible from Hotel Ladina also by bus, shuttles and ski lifts. There are also many history or religious-inspired themed itineraries commemorating the fact that the Fassa valley was one of the main battlegrounds in the Great War.
And
if
you
are
simply
looking
to
relax
in
the
natural
world,
this
is
the
place
for
you!
The Fassa valley routes accessible from our hotel vary in difficulty. There is something for everyone. A unique feature of Val di Fassa is the fact that there is something here both for those who love nature but do not want to exert themselves too much and for extreme sports people. With easy walks suitable also for families with children, to spectacular panoramas which will leave you speechless. For sports people and adrenalin lovers, on the other hand, there are a great many ridges and peaks to explore giving one-of-a-kind thrills. We'd bet on it!
In summer our guests can also count on the expertise of Alpine Guides who can take them to discover the area in complete safety, including the lesser known areas of the valley.
Of
the
huge
number
of
footpaths
that
the
Fassa
valley
has
to
offer,
we'd
like
to
list
a
few
not-to-be-missed
itineraries,
suitable
for
families
with
children
too:
CIAMPEDIE – GARDECCIA: (easy - 45 minutes) using the Vigo cable car to Ciampedie (1998 m), a high plateau in the midst of the forest with wonderful views of the Fassa Dolomites. From the cable car station the route enters the forest and continues to the Gardeccia basin refuges on an even path (also accessible using trekking strollers).
GARDECCIA – RIFUGIO VAJOLET AND PREUSS: (easy - 1.5 hrs). Having reached the Gardeccia basin from Ciampedie continue on footpath no. 546 and in around an hour of wide gravel track you get to the Vajolet and Preuss refuges.
CAMPITELLO - PRA MOLIN - VAL DURON: (medium - 3 hrs, 15 mins). An 8.5 km route gaining around 600 m of altitude beginning from Campitello's main square on Streda de Morandin and Streda de Col da Faè and traversing Mt. Ponjin. A shuttle service is available from Rifugio Micheluzzi.
FONTANAZZO - VAL DI DONA - VAL DURON - CAMPITELLO: (medium - 5 hrs). A more challenging itinerary which sets off from Fontanazzo for Campitello on footpath 577 in the forest on an enchanting route worth the hours of walk past lakes, forests and volcanic rocks.
GARDECCIA – RIFUGI VAJOLET AND PREUSS – PASSO PRINCIPE – PASSO ANTERMOIA – RIFUGIO ANTERMOIA – VAL DURON – CAMPITELLO: (difficult - 5 hrs, 45 mins). From Ciampedie to the Gardeccia basin on footpath No. 546 to the Vajolet and Preuss refuges. Climb the Porte Neigre rocky spur to Rifugio Passo Principe at 2600 m continuing along the base of the great Catinaccio d'Antermoia wall and climbing once again to Passo Antermoia at 2770 metres. The route then descends on the far side of Valon d'Antermoia, passing the lake and reaching Rifugio Antermoia (2497 m). After the refuge take footpath No. 580 to Passo Dona (2516 m) and then turn onto path No. 578 which soon takes you to Passo delle Ciaregole and then to to Rifugio de Duron. Take footpath No. 532 to Rifugio Micheluzzi at 1850 m and descend through forests and meadows to Campitello.
For further information and to find other Val di Fassa routes CLICK HERE.