DOLOMITE
MOUNTAIN
BIKE
HOLIDAYS
IN
THE
FASSA
VALLEY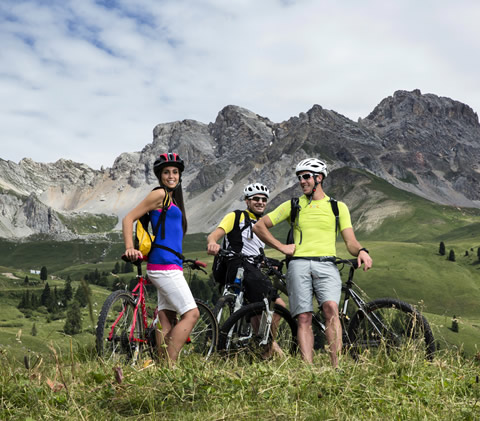 ACTIVE
HOLIDAYS
ON
BIKES
IN
THE
FASSA
DOLOMITES
IN
TRENTINO
In the summer the Fassa valley is a much sought after destination for cycling lovers with its great many, varied itineraries.
There is no better sport with which to enjoy the unrivalled beauties of this valley to the full, above all in summer when it is truly an explosion of colour.
In the midst of the Fassa Dolomites' unique natural setting, suffused by peace and quiet and the intense fragrances of nature, cyclists have a huge choice of routes suitable for everyone from the easiest and most accessible to more challenging routes for the fittest.
For the fittest, Passo Sella, Passo Pordoi and the famous Giro dei Quattro Passi, within easy reach of our Campitello di Fassa hotel call, while those who prefer well groomed tracks or want simply to enjoy the Fassa valley's views at their own pace, the most popular route is the Pista Ciclabile delle Dolomiti di Fiemme e Fassa cycle track with its 48 km of track across the Fiemme and Fassa valleys. Val di Fassa is also an exceptional stage in mountain bike events and races including the Sudtirol Sellaronda Hero MTB-Marathon, considered the toughest mountain bike race in Europe, Val di Fassa Bike, an international race whose route this year is less challenging and more accessible to the less expert, and Sellaronda Bike Day, a non-competitive cycling event over Dolomite passes.
Our Campitello di Fassa hotel has a bicycle storage area equipped with simple maintenance and cleaning facilities to make your Val di Fassa mountain bike holiday even more enjoyable. Our hotel also has a number of bicycles free-of-charge for guest use. Ask at reception.
Val
di
Fassa's
range
of
biking
and
mountain
biking
itineraries
is
truly
enormous
and
it
is
simply
a
matter
of
finding
the
ones
which
suit
you
best!