VAL
DI
FASSA
FAMILY
HOLIDAYS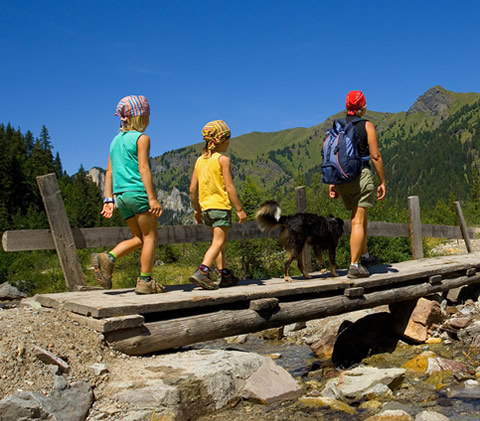 CHILDREN
ARE
VAL
DI
FASSA'S
VIP
GUESTS
IN
SUMMER
There are plenty of opportunities for children to have fun in the Fassa valley, letting mum and dad relax, and many fun educational summer activities to get children closer to nature and the local area, too.
FASSALANDIA
ACTIVITIES
Our valley has always paid special attention to its little guests with mineralogy workshops, fun educational activities, treasure hunts, educational farms and children's theatre performances - they'll never get bored in Fassalandia!
Fassalandia is an initiative sponsored by the Fal di Fassa Tourism Board and encompasses a full, free-of-charge programme of events organised each week across the valley:
an introduction to climbing in the mountains or at the rock gym with an Alpine guide (for children from 7 to 14 years of age);
Dolomite geology workshop at the Vigo di Fassa Mineralogy Museum (in San Giovanni);
guided trip to a mountain dairy and local product tasting suitable for the whole family;
specific entertainment programmes (for children aged 3 to 7) organised by the events committees of the individual valley towns;
performances, theatre entertainment and free entry to the Museo Ladin de Fascia;
themed walks and high altitude activities organised by the valley's Società Impianti a Fune.
ON
THE
'SENTIERO
DELLE
LEGGENDE'
The Fassa valley's Ladin traditions are packed with characters and stories of kings and magic whose setting is the enchanted Catinaccio-Rosengraten Dolomites. To introduce visitors to these stories the Ciampedie Ladin Museum organises cultural excursions for the whole family on a journey through the realm of King Laurino, living legends set in the forests transforming the trip into an adventure!
From Vigo di Fassa, the Ciampedie cable car takes you to 2000 metres to an incredible panorama taking in the spectacular peaks of the Catinaccio, Vajolet and Larsec massifs. Surrounded by spruce, larch and arolla pine trees along the magical footpath to the Gardeccia basin, you can follow the evocative legends of the Ladin tradition one step at a time.
For more adventurous children, the Fassa valley's Alpine guides organise trips for aspiring climbers! Skilled instructors will pass on their passion for mountaineering and climbing to you in complete safety.
There is a special children's park just a short distance away from Hotel Ladina: Dolomiti Action Adventure Park! Let your children discover canyoning and ultra-fun acrobatic routes, a new idea for outdoor activities in the natural world, a chance for a fun family day out.
For families who love walking and mountain excursions the choice is yours.
The Fassa valley offers routes of various difficulty levels giving parents holidaying with their children the chance to get easily to breathtaking altitudes and panoramas.
In summer both children and adults who love a thrill can try their hands at 'free flying' at Ciampedie on the Rosengarten Fly Line. An avant-garde eco-friendly structure will get you 'flying' for 1100 metres in the midst of the trees with narrow and long turns in total safety. For brave hearts!!
Seen
through
children's
eyes
the
Fassa
valley
is
a
huge
playground
in
the
heart
of
the
Dolomites!