LOTS
OF
OUTDOOR
ACTIVITIES
FOR
A
FASSA
VALLEY
HOLIDAY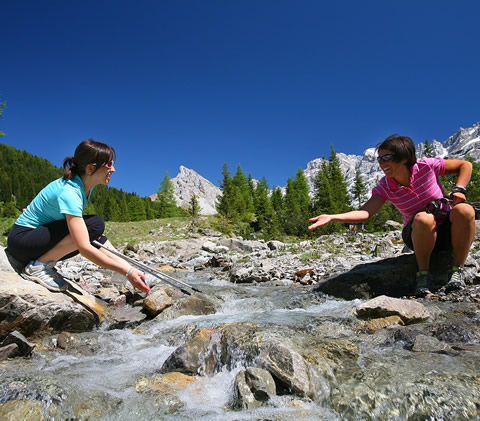 OPEN
AIR
ACTIVITIES
FOR
YOUR
SUMMER
HOLIDAY
IN
VAL
DI
FASSA
The Fassa valley is a veritable paradise for outdoor activities: climbing, trekking, via ferrata climbing routes, Nordic walking, mountain biking, hang gliding, paragliding and much more.
TREKKING
AND
EXCURSIONS
IN
THE
MOUNTAINS
AND
VALLEY
The Val di Fassa offers mountain and valley excursions with the assistance of local experts. In summer our Alpine Guides organise high altitude walks, vie ferrate and free climbing courses. The opportunity to do nature/cultural walks with local guides is also to be remembered, a chance to enjoy marvellous Dolomite scenarios without missing any of the more profound aspects linking the area to local populations. Val di Fassa's network of footpaths is incredibly vast and you can choose from various themed and religious routes or straightforward stroller-access itineraries if you're here with your children, or more challenging footpaths for experienced hikers.
HORSE
RIDING
IN
VAL
DI
FASSA
Why not take advantage of one of the most beautiful mountain landscapes in the world for a horse riding outing? Campitello di Fassa's Happy Ranch) stables, just a short distance from Hotel Ladina, offers lessons for children on ponies, horse riding or half or whole days in contact with animals and nature.
VAL
DI
FASSA
VIE
FERRATE
AND
CLIMBING
For more experienced hikers who already know the area and want to go further, Val di Fassa offers a great many vie ferrate (equipped climbing routes) whose iron cables allow those with a little experience to get to remote places and unimagined panoramas. If, on the other hand, you love climbing but want to do it in safety, there are many artificial permanent covered climbing walls in Val di Fassa where you can challenge the laws of gravity and learn this spectacular extreme sport. Rock climbing courses with Alpine Guides are a way of getting to know this sport, a chance to develop physical harmony and the ability to concentrate as well as to enjoy splendid views over the mountains of the Fassa valley.
VAL
DI
FASSA
HANG
GLIDING
AND
PARAGLIDING
Lovers of hang gliding and paragliding can 'dive' off the slopes of Col Rodella and Mt. Belvedere in free flight into a truly unique scenario where the colours of nature, the green of the forests, the grey of the rocky peaks, the white of the snow on the Marmolada and the bright reds of the sunset mix with the colours of the sails in an unusual, curious rainbow. The thrill of flying through this natural paradise is now accessible to those new to this sport too thanks to two seater paragliding giving anyone the chance to experience the thrill of flight in total safety with the help of nationally trained instructors.
GOLF
IN
VAL
DI
FASSA
Val di Fassa Golf Club at the foot of Col Rodella in Campitello di Fassa is waiting for all golf fans and its 10 holes are a chance to practice your swing in a truly unique setting. In July and August lessons are organised for those looking for a chance to learn this sport while on holiday.
FASSA
OUTDOOR
SERVICES
The Fassa Outdoor service is convenient and much appreciated by Val di Fassa guests as an assistance and bookings centre for all summer outdoor activities. As well as a useful way of planning your stay,
it is a chance to discover the many excursions and activities available in the valley, find contacts to book mountain bike tours, climbing instructors and local guides as well as to obtain information on prices and special offers. FIND OUT MORE ABOUT OUTDOOR ACTIVITIES
For
further
details
contact
us.
We
will
be
happy
to
supply
you
with
all
the
information
you
require
to
enjoy
your
outdoor
holidays
in
Val
di
Fassa
to
the
full!