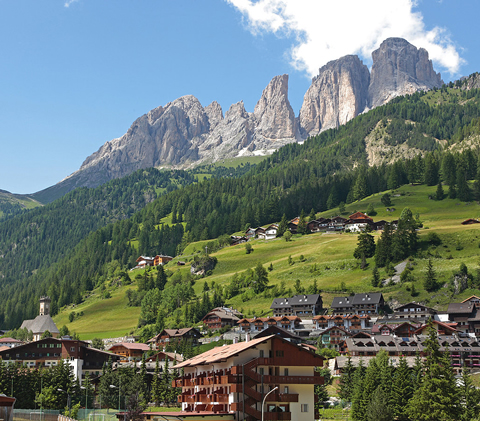 CAMPITELLO
IN
VAL
DI
FASSA
IN
THE
HEART
OF
THE
DOLOMITES
Campitello di Fassa (1448m) is at the foot of imposing Sassolungo and Col Rodella, one of the most famous towns in the Fassa valley with some of the most beautiful views in the world.
The first Alpine tourist town in Val di Fassa, Campitello is the starting point for the cable car which gives visitors a wealth of breathtaking views over the majestic spires of Mt. Sassolungo. The cable car taking you to the Col Rodella - Belvedere - Passo Pordoi ski area is just a short distance from Hotel Ladina in Campitello di Fassa with its grand total of 26 ski lifts, over 30 km of ski slopes, 2 snow parks and a great many interlinking itineraries in pristine forests with the beautiful backdrop of the Fassa Dolomites.
In both summer and winter Campitello is a splendid setting for open air sports in nature.
In winter Campitello offers the best skiing and snowboarding: perfectly snow covered slopes and modern ski lifts allow visitors to discover Dolomite peaks and cross into neighbouring Ladin valleys with the Giro dei 4 Passi. Also known as the Sellaronda, the Giro dei 4 Passi is a 40 km long itinerary which attracts a great many visitors every year in both summer and winter. DISCOVER OUR WINTER ACTIVITIES
In summer there are a great many walks and high altitude trips of various difficulty levels, climbs and trips to the verdant Val Duron dotted with characteristic Alpine huts and a great many marmots whistling for attention and to warn others of danger. The area is also ideal for hang gliding and para-gliding with its perfect thermal currents. No list of the most beautiful experiences which Campitello di Fassa has to offer is complete without a mention of the wonderful cycle track which starts in Fontanazzo and passes through meadows and pristine forests to Cavalese. FIND OUT MORE ABOUT SUMMER ACTIVITIES
Campitello di Fassa is a town worth exploring! It is undoubtedly a veritable oasis for those who love nature, relaxation and good food.
There are a great many events which bring the Fassa valley to life in all seasons!
A visit to Campitello in winter is a chance to celebrate the Ladin Carnival, a traditional Ladin cultural event with its characteristic "mascherèdes" and "faceres" masks or to watch (or take part!) in the Marcialonga, a Nordic skiing race with a well-established place in the local skiing tradition now with more than 7000 athletes taking part in the 70 km race.
In the winter, on the other hand, one of the best known events is certainly Sellaronda HERO MTB-marathon, considered the most challenging mountain bike marathon in the world, a thrilling mountain bike circuit of Mt. Sella. The race winds its way along gravel roads and mountain footpaths through the Gardena valley, Alta Badia, the Fassa valley and Alpe di Siusi taking on the Gardena, Campolongo, Pordoi and Duron passes. It is spectacular and thrilling to watch or - why not? - to compete in!
And there are plenty of events which exalt the quality of local food and wine, with something for even the most exacting palates. Characteristic local cuisine, together with the experience of our chefs Roberto and Paolo, will treat you to unforgettable experiences. Come and discover the Campitello di Fassa magic!