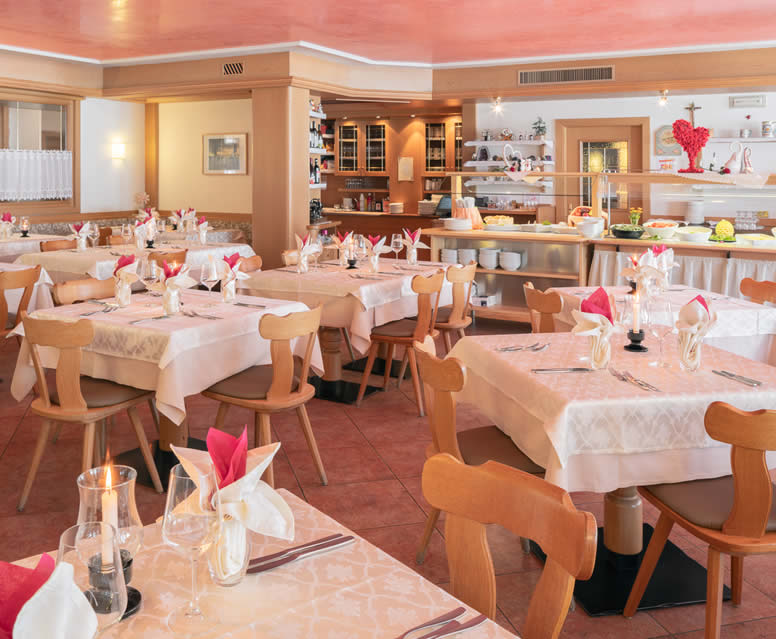 A
TASTE
EXPERIENCE
What makes our hotel special? The quality of the dishes which chefs Roberto and Gabriele serve up for our guests every day: at Hotel Ladina original and tasty dishes will get your mouths watering right through the day.
Our chefs take great care of our guests and for this reason our specialities are made with fresh, top quality ingredients: a triumph of colour, aroma and flavour which will make all your meals a special experience!
WE
CHOOSE
TOP
QUALITY,
FRESH,
AND
WHERE
POSSIBLE
ZERO
MILES
PRODUCTS
TO
ASTOUND
YOU
EVERY
DAY
AND
TAKE
YOU
ON
A
JOURNEY
THROUGH
THE
FLAVOURS
OF
THE
FASSA
VALLEY
AND
THE
TRENTINO
REGION.
Our guest menu offers you a varied choice from three pasta, rice and soup dishes and five meat and fish dishes, mouth-watering starters, a salad buffet, delicious desserts and also teas, herbal teas and fresh fruit for an afternoon snack. At our hotel's restaurant you can try the best traditional Italian and Mediterranean cuisine and also undertake a full blown gastronomic journey tasting the distinctive aromas and flavours of our local cuisine: each week the hotel organises Ladin evenings, romantic nights and aperitifs in company!
In the summer season we offer guests half board, full board or full buffet breakfast. In winter we prefer to leave you free to enjoy the snow and offer half board or bed and breakfast.
If you want to treat yourself even more come and try our La Stua de Macoch restaurant's specialities for lunch and dinner where Hotel Ladina guests are entitled to 10% off. It is a cosy and relaxing atmosphere for a romantic dinner or to celebrate an important event destined to remain with you as one of your most cherished memories. RISTORANTE LA STUA DE MACOCH IS ALSO OPEN TO OUTSIDE GUESTS - CHECK IT OUT
CHILDREN'S
MEALS
AT
HOTEL
LADINA
Children are welcome at Hotel Ladina's restaurant! Mothers can ask our chefs to make simple dishes and baby food suitable for their children. And a mini kitchen is available throughout the day on the second floor of the hotel to be used for heating up or making milk and baby foods.
Hotel Ladina in Campitello's culinary services:
Full buffet breakfast
Choice of three course menus for lunch and dinner
Vegetable buffet and choice of dessert
Weekly: welcome drink, romantic candlelit dinner and characteristic Ladina dinner
Afternoon snack of teas, herbal teas and fresh fruit
Snack bar with aperitifs and sandwiches
Ristorante LA STUA DE MACOCH is open to outside guests too.