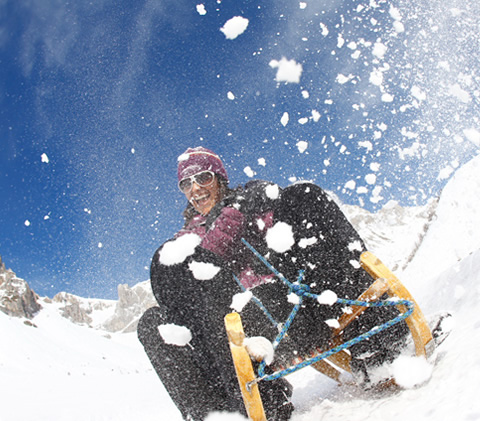 HAVE
FUN
ON
THE
FASSA
VALLEY'S
SLEDGING
SLOPES
Leave
your
stress
behind
and
treat
yourself
to
the
luxury
of
letting
your
inner
child
out!
Can you think of anything more enjoyable than a fun ski lift or cable car ride, a break at a welcoming refuge to sip a hot chocolate with cream before whizzing down again with a sledge or bob sleigh?
Sledging descents are a fun alternative for Val di Fassa's snow lovers, guaranteed fun for children but also ideal for those looking for a change from skiing.
For some years now many of the area's ski areas have created special sledge and bob sleigh slopes with rental services for totally safe fun for both you and your children!
All the Fassa valley's sledging slopes are easy to get to from Hotel Ladina by car or ski bus:
Bob sleigh, sledging and tubing slope in Canazei: easy to get to on the Avisio skilift in under 4 minutes by car from our hotel;
Fraina sledging slope – Bellamonte (skiarea Moena Alpe Lusia): from Pera di Fassa, less than 8 km from Hotel Ladina you can try the Fraina sledging slope. It is a 2,100m long slope at Bellamonte served by cable car with the chance to rent sledges and daily tickets or trip by trip ticket options;
Ciampedie - Vigo di Fassa: near the Kinderpark, served by the Vigo di Fassa cable car, sledge, bob sleigh and dinghy rental services, 9 km from Hotel Ladina.
A
MOONLIGHT
SLEDGE
RIDE
IN
VAL
DI
FASSA
After a break or a dinner at a refuge, what could be more wonderful that a moonlight sledge ride with your children, friends or in a romantic embrace? For further details or information we are at your disposal to help you organise your Val di Fassa holiday.