SNOWPARKS
IN
VAL
DI
FASSA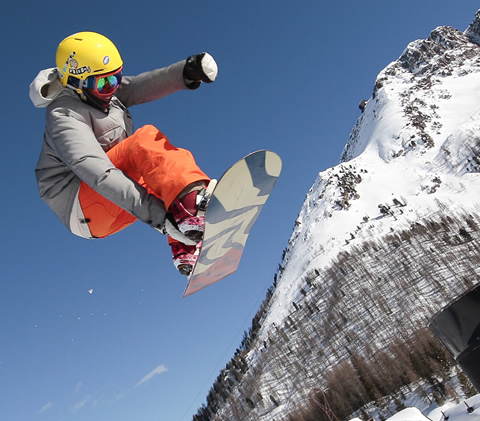 SNOW
PARKS
RESERVED
FOR
SNOWBOARDERS
AND
FREESTYLERS
IN
VAL
DI
FASSA
There are a number of snowparks designed especially for snowboarders and freestyle skiers in the Fassa valley.
There is a grand total of six places to freely practice these sports and all of them are easy to get to from Campitello di Fassa's Hotel Ladina in a few minutes by car.
The Fassa valley's snowparks are very different from one another to offer snowboarders and freestylers a vast range of choices. What all these snowparks have in common is their magnificent panoramas. In the Dolomiti Superski area thrills are guaranteed!
5 minutes away from Hotel Ladina in Campitello di Fassa is the Col Rodella Snowpark: it is ideal for practising these sports in total safety for those whose experience is still limited. On the Grohmann and Salei slopes, in the midst of incredible panoramas, there are three kickers and a parabolic itinerary for boardercross;
In the midst of the Belvedere ski area the Dolomiti Park snowpark is a modern and well equipped area for both beginners and the more experienced. Suitable for both adults and children the Dolomiti Park is 250 metres long and is equipped with four jumps, a quarter, boxes, rails and the BigAirBag, an enormous 17x11 metre mattress to dive onto! The snowpark is easy to get to on the Canazei lifts which are 5 minutes by car/ski bus from the hotel.
10 km from Hotel Ladina and easy to get to by car or ski bus, is Snowpark Buffaure in the centre of this latter ski area near the Catinaccio massif. Its Family Fun Line makes it perfect for families, enabling even the youngest to have fun and try their hands at incredible activities in total safety. Snowpark Buffaure can be accessed by cable car from the village of Meida in Pozza di Fassa (9 km from our hotel).
Carezza Snowpark, near Passo Carezza at the foot of the Catinaccio-Rosengarten massif, is equipped for riders of all levels and suitable for families with children too. Set in a UNESCO heritage area this snowpark offers spectacular views on the Latemar and Catinaccio massifs. Carezza Snowpark is around 20 km from our hotel and easy to get to from Passo Costalunga and Passo San Pellegrino, at 2000 metres, one of the Dolomiti Superski area's best snowparks. SanPe Snowpark is perfect for those who prefer American style slopestyles and the new feature this year is a boardercross route for children. SanPe Snowpark is also equipped with an ultra-new BigAirBag, a huge, 15 metre long inflatable cushion which gives snowboarders and skiers the chance to practice jumps and acrobatics with a safe, soft landing cushion. Parco Neve SanPe is near the Campigol skilift at Passo San Pellegrino, around 25 km from the hotel.
Morea Snowpark is approximately 30 minutes from our Campitello di Fassa hotel on the south side of Alpe Lusia. This snowpark is suitable for both beginners and more experienced riders with a jibbling area, slopestyle lines, rails. kickers and plenty more to enjoy. 900 metres of pure fun!
Once again in Alpe Lusia is Lusia Boardercross, a snowpark with an approximately 800 metre long, medium difficulty route exclusively for boardercross. It can be accessed on the new 8 person gondola Ronchi-Le-Cune, 1.5 km from Moena (around 25 km from our hotel).
For
information
on
opening
times
for
the
snowboarder
and
freestyle
snowparks
in
Val
di
Fassa,
don't
hesitate
to
contact
us.