VAL
DI
FASSA
EVENTS
AND
FESTIVALS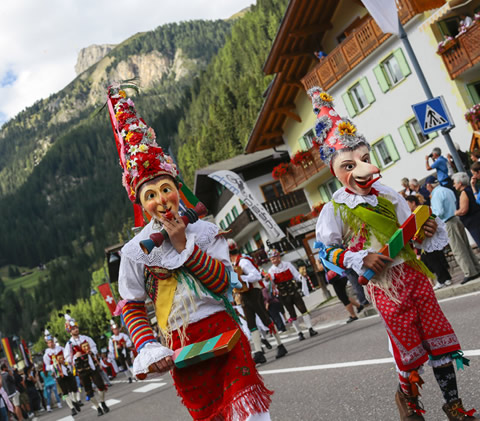 LOTS
OF
OPPORTUNITIES
FOR
FUN
AND
ENTERTAINMENT
IN
YOUR
FASSA
VALLEY
SUMMER
In the summer the Fassa valley comes alive with a great many opportunities to find out more about the Ladin world, our people's traditions and culture.
Come
and
experience
the
magical
atmosphere
of
the
festivals
which
bring
the
Fassa
valley's
summer
days
to
life!
Here's just a taster of the Val di Fassa's many summer events:
GIRO D'ITALIA: this year, the pink route will pass through the Fassa valley - the 17th Tirano-Canazei stage on 24th May 2017, taking competitors through the Aprica-Tonale corridor, a total of 219 km and finishing in this Fassa valley town. A sprint finish in Canazei, the third in the race's history, will complete a stage which climbs through the whole valley. Intermediate difficulty stage. The 18th stage, the long Moena-Ortisei Dolomite stage, will start in Moena. From here the cyclists will climb up to the first pass, Pordoi, which made Giro history and will play a centre stage role again this year. It will then continue on an ultra-tough route encompassing the Falzarego, Valparola, Gardena and Pinei passes before finishing in Ortisei, a total altitude gain of around 4000 metres.
CLIMBING FESTIVAL: for three days, from 30th June to 2nd July 2017 the Ischia area of Campitello di Fassa will be literally taken by storm by all mountain and open air sport lovers. An Expo Village will be set up with a great many outdoor sector stands where products and equipment can be tried out. In addition to the Experience Village, a range of activities by the Fassa Outdoor Association's best professionals at scaled rates: mountain bike tours, free climbing, paragliding, via ferrata, Nordic walking lessons and trekking. The Ischia Sports Centre contains: a climbing gym, golf and mini golf practice courses, tennis, football and basketball courts, an acropark, horse riding stables, a children's park, a refreshment area and paragliding and hang gliding landing areas.
La Bira te Fascia craft beer festival in the middle of July (14th to 16th July) in Ischia in Campitello di Fassa promotes beer producers from many different parts of Italy. Guided tastings with expert beer makers are on offer paired with cheeses, charcuterie and Fassa produced vegetables as well as local trips - A spas con na bira - wandering with a beer. In the evening the fun continues with Irish folk or country music at the marquee. Not to be missed!!!
Entorn Vich: approximately 10 km from Campitello, seven evenings in July await you in Vigo di Fassa for a culinary event where you can see local products being worked and try local food with its tasty charcuterie and cheeses where you will be met by traditional local music as you stroll around the town!
Te anter i tobiè: under 5 km by car from Hotel Ladina, in Canazei in July (from 7th to 9th July 2017), an event takes place whose name means 'in the midst of the hay barns' in Ladin. A Tobià is a historic hay barn with wooden beams, a symbol of Ladin culture. You can discover local traditions and taste excellent local cuisine at food and wine stands set up specially for the occasion, as well as at travelling concerts, exhibitions and show cooking events;
Festa ta Mont: on the first weekend of August (from 4th to 6th August 2017) at Pozza di Fassa, under 20 minutes by car from Campitello di Fassa, Festa ta Mont is celebrated at Val San Nicolò. It is a chance to meet sculptors, painters and musicians while tasting traditional Ladin specialities.
Gran Festa da d'Istà: less than 5 km from Hotel Ladina, in Canazei, come and experience the Gran Festa da d'Istà in early September (8th to 10th September), an end of summer festival of local music and dance with famous Austrian, South Tyrolean and Ladin folklore groups!
The famous I Suoni delle Dolomiti musical festival is also worth underlining, with 9 dates in July and August to hear great musicians in a magical Dolomite setting! Jazz, classical music, ethnic music and musicians performing their own music. Music and nature lovers will not want to miss this unique occasion!
These
food
and
wine,
music
and
Ladin
tradition
events
and
many
more
will
bring
your
summer
Fassa
valley
holiday
to
life.