QC
Terme
Dolomiti
Special
Rates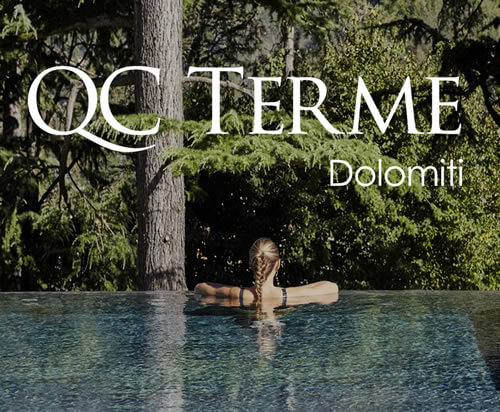 Hotel
Ladina
clients
get
special
rates
at
QC
Terme
delle
Dolomiti
in
Pozza
di
Fassa.
At Pozza di Fassa you can enjoy the benefits of the Aloch sulphurous water springs at QC Terme Dolomiti, an innovative spa baths set in the natural context fully respecting the environment.
Hotel
Ladina
offers
its
guests
a
generous
10%
off
entrance
to
the
QC
Terme
Dolomiti
spa
centre.
The ultra-new Quadrio Curzio designed spa centre is set on three levels covering a total of 4300 square metres as well as outside swimming pools and spaces giving you the chance to try out 'forest bathing', a practice which is one of the pillars of preventive medicine in the Orient.
QC Terme delle Dolomiti - Val di Fassa's proposals are varied: jacuzzi baths, kneipp routes, waterfalls, Japanese baths, steam rooms, saunas and bio-saunas, salt rooms and relaxation areas. There is a large space dedicated to massage and culinary experiences.
This new spa bath facility, designed by Quadrio Curzio, has transformed the Fassa valley into an international spa bath centre.
The QC Terme Dolomiti - Val di Fassa spa baths are in Pozza di Fassa, just 8 km from our Campitello hotel.
*reductions valid from Monday to Friday, excluding bank holidays, pre-bank holiday days and other national holidays, peak season and Christmas and Easter holidays in accordance with QC Terme Dolomiti fees. Discounts are non-cumulative and cannot be added to other special offers. Special rates are individual and strictly hotel guest specific.